X Email your orders to

bazaar.ave@gmail.com
and do kindly wait for the invoice!

Format of Order :
Real Name :
Item(s) :
Postage : Normal ($1.50) / Registered ($3.74) -Highly Recommended!
_______________________________________________________________________________________________

Imported for Hollyhoque
Twist and turn in this number, to attain the summer dance with poise! We love the length which isn't too awkward for girls with petite frames, and the lovely hues which add a touch of playfulness to this staple wear.
Featuring draw strings at waist and raw/unfinished hem line. Made of cotton. Fully lined till knees, not sheer.
SGD $22
The brownie points that we have attributed to this dress are derived from the detachable criss cross sash that doubles up as a belt for our other outfits, and the tiers that add a flirty and fun touch! The best deal? A dress with such thoughtful details to play up your look requires minimal accessorising!

SGD $26.50
Another maxi dress has landed at Hollyhoque! Imagine yourself strolling along the shoreline hand in hand with your loved one in it, the perfect maxi dress for a beach getaway this weekend! Alternatively, match this maxi dress with heels and a clutch for presence at corporate functions!

SGD $28

Less is more, with this frock. An inspiration borne right out from Vivi Japanese fashion magazine, this frock spells of ultimate flirty fun.

We think it is perfect for girls who are of bigger frames, for the flattering cut of this frock reeks of a tinge of conservative nature which lets you conceal the unsightly buldges, while the A line skirting effectively hides those thunder thighs. Girls who are of petite frames have it all, you will appear slimmer than you already is!

Featuring loop details at neckline, puff sleeves, elastic band under bust and lace trimmings at hem. Made of stretchable velvet.

SGD $26.50
Hollyhoque Label
Behold, working ladies. It's been quite awhile since you come across such a unique button down top, how often it is that you get to reveal your well-endowed shoulders insidiously, and get away with it? The lace frames your shoulders in a way no other material would, plus, you can either tug the top in your work bottoms or tie it up for a touch of fun during your dress-down days. This button down top will ensure that you look smart chic and lovingly professional in it, trust us on that! Wear it loose fit or tie up the shirt ends for a night of partying!
SGD $22

HH Loop Front Spaghetti Top in Grey/Black
Hollyhoque Label
A playful 2-piece for the price of one! How about that for a good deal! Layer the outer piece with the matching tube as pictured, to create a stark contrast! This top is best suited for an outdoor get together with your friends, when paired with your favourite sneakers! We foresee it to sell like hotcakes during the launch for the versatility that it evinces wholly!
SGD $21.50
Plunge front with kissing center and Gel-Curve® padding for more cleavage than ever before.
Infinity Edge® eliminates lines for an invisible look under clothes.
Kissing center for more cleavage than ever before.
Infinity Edge eliminates lines for an invisible look under clothes.
Swell: Padded for ultimate lift. Level 5
Underwire cups
Adjustable, detachable straps can be worn halter, crossback or classic
Back closure
Imported polyester/Lycra spandex
Size (US)32A
in
dj5-nude
Orig: USD $48
Selling: SGD $45
BNIB VS Very Sexy®Push-up bra with Gel-Curve®
Our most popular push-up.
Infinity Edge® eliminates lines for an invisible look under clothes.
Plunge front with Gel-Curve® padding for lift and cleavage.
Padded for extreme lift. Level 4
Underwire cups
Twinned adjustable straps
Back closure
Imported polyester/spandex
Size (US)32A
in fushia
Orig: USD $45
Selling: SGD $42
BNIB VS Cheekiest lace-waist mesh thong
Show a little or a lot with three levels of cheek peek.
Cheek peek: cheekiest. Extra low rise. Imported nylon/spandex.
Size (US)S
in
au3-pink hearts
Orig: USD $3.99
Selling: SGD $5.00

BNIB BC

Chiffon Cross Back Top in Blue
We all had a hard time choosing which to keep!
Yummy and warm hues for the summer!
Extremely flattering cut that is well designed to show off those womanly assets!
Versatile and easy to throw on!
A definite head turner and must have!
ptp 13" to 17" down 24"

SGD $22
BC Embellished Bustier Dress in White
Fell in love with this piece the minute I saw it
The cut is extremely flattering and it has a whole palette of colours on its embellishments, making it a simple yet very classy piece to own!
Easy to throw on and fuss-free
Measures 13-18"PTP, 34"down
SGD $22
Involves intricate workmanshipP.S. Embellishments are hand-sewn beads & sequins and may vary for each piece though general colour outline is followed
Sturdy enough for wash
BNIB HVV Oversized Boho Feather Dress in Dark Grey
Made of chiffon
Inner lining: non-sheer!
Belt not included
Model is UK size 6/8, 170 cm
Pit to pit 18 – 19 inches
Length 33.5 inches
SGD $26.00
BNIB Colourblock Toga Dress in Fuschia
MANUFACTURED BY RUNWAYDIVA


PTP: 13''- 17''
Length: 31.5''
Our model commented on how comfortable & cooling this piece is!
Colour-block designs in contrasting hues are a sleek way to wear bright colours :)
We hope you like the colour combinations we've thought so hard about
Made of lycra material
Comes with inner lining, great for casual shopping dates!
SGD $22
BNIB LB Keyhole Basic Top in White
Made of thick lycra & cotton mix; quality is assured!
Basic sweet top which matches anything & everything!
Measures 14" to 18" PTP, 22" Down
SGD $20

BC Pocket Tee Dress in White (Non-Sheer)

SPECIALLY MANUFACTURED BY BONITOCHICO
Made of thick lycra & cottom mix - quality assured!
Measures 12'' to 16'' PTP, 31'' Pit Down
SGD $22


BNIB BC Embroidered Sundress in Blue



SPECIALLY MANUFACTURED BY BONITOCHICO
Comes with inner lining - non sheer!
Intricate and pretty embroidery details
One of my favourite pieces!!
Adjustable straps
Measures 12'' to 16'' PTP, 31.5 to 34'' Down (ADJUSTABLE STRAPS)

SGD $24

BNIB BC Chiffon Fringe Tunic in Green

Pair it with shorts or leggings
All of us own at least one colour!
COMES WITH COMPLIMENTARY THICK TUBE TOP
Measures 17'' to 20'' (meant to be worn loosely) PTP, 32'' down

SGD $20

BNIB HH Tie Waist Drape Knit Cardigan in Almond


SGD $24
BNIB WS Snowflake Knit Fringe Cape
Undefined PTP, 29' legnth
Made of quality assured knit material, not sheer at all.

SGD $26


BNIB BC Slouchy Off-Shoulder Top in Nude




SPECIALLY MANUFACTURED BY BONITOCHICO
A basic piece which is a must-have! Matches almost any bottom. Made of viscose
Measures 20'' PTP (meant to be worn loosely), 23'' Down

SGD$20

BC Pleated Sundress in Cyan



SGD$22

BNIB HH Girl Next Door Jumper in Light Denim Size M



SGD$29
(looking to trade for Size S too)

BNIB Giselle's First Dance Dress in Matcha Green Size S




SGD$38

Lilypirates A Twist of Luck Dress in Navy Blue



SGD$28

HH Criss Cross Shoelace Toga Dress in White


*Hollyhoque Label*
The criss cross tie strings formed a love at first sight for us!
Who can resist the touch of class that it effortlessly adds to the entire dress?
If you have always been a fan of toga dresses, this one is a must-have for you!
Pull back your hair in a chignon bun and put on your diamond studs for a wild night out.

Featuring functional criss cross tie strings, elastic band at back, and comes with a side zip for easy wearing. Made of polyester cotton. Fully lined, not sheer. 14"-18" Across, 31.5" Down

$24

Agneselle V Back Stripe Dress





SGD $12

BC Angel-Sleeve Burn Out Top in Dusty Grey


This top is a next staple in your wardrobe!
Comfortable and extremely flattering, it's great for any day out
Made out of quality burn-out material; very slightly sheer
P.S. the arm-holes are covered
Measures 14.5"-16"PTP, 25"down

SGD$15

BNIB KOG Chiffon Outerwear in Black Dotty or White Dotty
From collection 78


Black Dotty: Black with White Dots
White Dotty: White with Black Dots


SGD$22


BNIB Wonderstellar Stolen Boyfriend's Top
Fit guide: Fits all
Measurements: 19' ptp, 25' length
Made of good quality silk polyester blend. One of our top picks of the collection!
SGD$25
BNIB HH Wide Leg Trousers in Black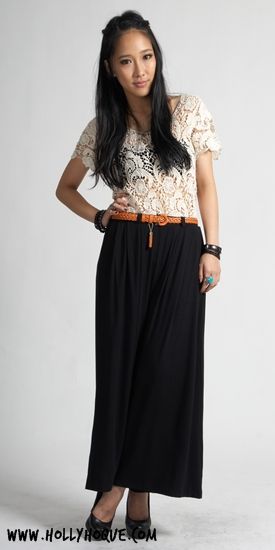 Measurements: 12″ to 19″ Waist, 35″ Down
Co-Manufactured for Hollyhoque
Featuring belt loops, elastic band at waist and functional pockets at sids. Made of 100% rayon.
$26.50
BNIB Charlotte Russe Ball Lock Foldover Clutch
A chic foldover wallet clutch featuring a credit card holder and accordion compartment, an outer zip pocket, and a sliding ball lock closure with magnetic snap at tab; 7 1/2" w, 4" h.
SGD $18
BNIB Charlotte Russe Corset Laced Tank in Ivory
A center-ruched tank featuring corset-inspired lacing down the front, a deep scoopneck, and a ruched center panel down the back.
Size S
SGD$26
BNIB Charlotte Russe Shimmer Shrug in Silver
Size M
A lurex threaded shimmery shrug featuring sweet ruffled cap sleeves with a ruffly trimmed hem.
SGD$35